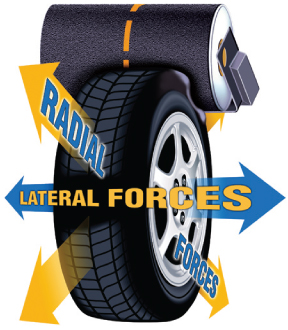 Just like with alignment equipment, at AlphaCars we invested in the amazing state-of-the-art Hunter GSP9700 "Road Force" diagnostic equipment. It allows our technicians accurately pinpoint tires and rim issues that lead to vibrations on the vehicle steering wheel or throughout the body of the vehicle.


A driver and passengers may feel very small but unpleasant vibrations that are impossible to address by conventional wheel balancing even by best technicians in the best shops. These vibrations may also be accompanied by a vehicle pull to the right or to the left even though the wheel alignment is set correctly to the manufacturer specification.


With the advanced abilities of the Hunter GSP9700 "Road Force" diagnostic equipment our technicians can accurately and cost effectively pinpoint tires that have excessive Road Force reading as well as rims that have non-visible deformations. The GSP9700 has optimization mode. Program will calculate better tire-to-rim placement based on the measured Road Force and rim deformation. The program will provide for technician optimal tire on the rim position to utilize forces created by the slightly deformed rim and excessive Road Force. Such optimal tire-to-rim placement will oppose these forces bringing combined force that effects the quality of the ride to minimum.


Do not settle for anything less than perfect when it come to quality of your ride.
---
Specializing in BMW, Mercedes-Benz, Volvo, Volkswagen, MINI, Audi, Porsche, Land Rover, Lexus, Acura, Infiniti, Smart, Subaru.