AMG Beginning Years
Originally, AMG was a higher performance firm founded by Hans Aufrecht and Erhard Melcher that worked specifically on race engines. They were known then as AMG Engine Production and Development and worked independently from Mercedes. It wasn't long until Mercedes wanted a piece of what AMG had to offer and so AMG worked on unofficial upgrades to various models that Mercedes would come out with. The most popular models to be modified were the Mercedes R107 and C107 (1971-1989), W116 (1972-1980), and the W123 (1976-1985) just to name a few. Customers would have to custom order their Mercedes-Benz with the AMG enhancements. Having the upgrade was great for the most part, but the downside was that they had to wait a little longer for their vehicle to be ready.
AMG stands for Aufrecht, Melcher, and Großaspach (Aufrecht's birth town). That last bit I'm sure Melcher had an issue with, but let's not stop there. Business was booming and the partnership with AMG and Mercedes had undergone some major accomplishments. With its accomplishments came those who wanted a piece of the money makin' pie. After a long, complicated, and drawn out power struggle AMG ended up being owned by an entity of Mercedes. Within that power struggle the main location for AMG split in two. The original location stayed in Burgstal, Germany where they continued to work on the racing engines. The second location moved to Affalterbach, Germany where it worked with Mercedes permanently. Within that split, Melcher split as Aufrecht's business partner and instead became an employee at the Burgstal facility while his former partner moved on.
AMG Today
Mercedes-AMG models have come a long way since their beginning days, veering far from their racing roots and focusing more on mastering the most luxurious, ferocious looking vehicle in the market. Some say that compared to BMW M, Mercedes-AMG is "less narrow in its sporting focus, yet still combining sledgehammer performance with relaxed handling, cultured comfort, and practicality." There's no denying how well they've done and how comfortable it is to be behind the wheel of a Mercedes, particularly the Mercedes-AMG. Some people, like the new AMG chairman, are urging the company to focus on building sports cars. Even so, Mercedes has a great presence in both racing and the consumer market.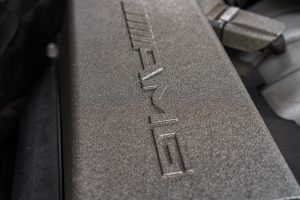 Below is a link that will direct you to our website so you can schedule a test drive and showing of one of the AMG's we currently have in stock.