Had a great experience working with Fernando. He listened to all my concerns and found ways to solve each one of them. He took me through the whole process and was very transparent. He took the time to show me the full spread on the value of my trade in and give me an incredible offer. Professional and fun to work with.
I recently purchased a Tesla at Alpha Cars.  The transaction was smooth and seamless.  I was told by Skip in service that the rear snow tires would need replacing.  For those of you that don't know Tesla, my car has 21 inch wheels which disqualifies most tire installers from being able to do the job.  I was thrilled when Skip told me Alpha has the capabilities to ... make this happen.  Skip ordered the tires and emailed me when they came in.  I was procrastinating but one morning Skip was proactive and emailed me that a snow storm was on its way and he could change the tires that morning.  The tires got installed and off I went.   The next day the storm hit and my car was fine driving through the snowy roads.   I tip my hat to Skip for his concern of my safety.   Alpha Cars is a class operation.
I recently purchased a Tesla at Alpha Cars. The transaction was fair, seamless, and hassle free. I needed to replace the rear snow tires on the car which is no easy task because the wheels are 21 inches. I called Skip in service and assured me they have the proper equipment so he quoted me a very competitive price so I opted for Alpha to replace the tires. Skip ... Skip contacted me when the tires arrived. I was procrastinating until I received an email by Skip that a bad snow storm was on its way and he could install my tires that morning. I drove up to Alpha and without delay they started working on my tires. I drove away thrilled that Skip was concerned for my safety. A day later I was driving around the snowy roads without a problem. I tip my hat to Alpha and Skip for a job well done.
These guys built my dream bike a few years back. Sure, it is true that money can't buy you happiness, but Its a bit hard to not be happy when riding on a custom Ural! Thiago and Dmitry from the shop have always been helpful. It is great to have a relationship with them throughout the years.
I've been into cars for a long time, and I know that if you want bang for your buck you should to buy used. With that comes some risk, as you can never be completely sure that the car you are buying is in sound condition. I started looking to replace the car I've been driving since college and I tried a bunch of different cars at many different dealerships. It soon ... n becomes clear that the experience at a dealership can vary, and more often than not used car dealers can be a sleazy bunch. I was pleasantly surprised when I went to Alpha Cars. Rather than getting right into the car and trying to move the buying process along as quickly as possible, Fernando (the sales manager) first took me on a tour of their service department, showing me all of the high end equipment and OEM parts they use on all of their cars. After walking through their showroom and talking about some of the other cool cars they had in their inventory, we sat down in the car I came to see. Fernando insisted he drive first, and went through all the cars features in detail. He really knew his stuff. I'd done a lot of research on this model, so I knew everything there was to know, but it was incredibly reassuring hearing him speak confidently about the ins and outs of the vehicle. The vehicle itself was in top notch condition, and after seeing their facilities and speaking with a number of their service technicians, I felt confident putting down a deposit, and then later on, buying the car. Also would like to mention that the office staff was incredibly helpful and patient with me. This was my first car buying experience, and they helped guide me through all the paperwork. Overall excellent experience.
Read More »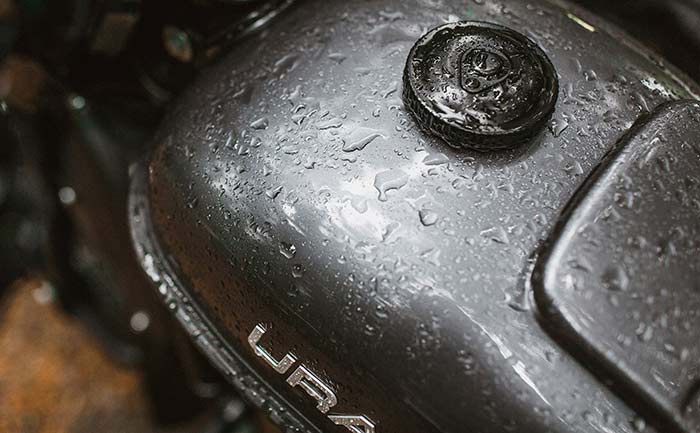 Today's Urals are backed by over 75 years of sidecar experience, distilled in the ultimate motorcycle to share your adventures.
Shaft driven with available on-demand 2WD
Purpose built as a sidecar motorcycle – the only one!
All-season riding. Trade in your ATV and Snowmobile!
Cylinder Independent Electronic Fuel Injection
All-wheel disc brakes – Brembo & HB
Reverse gear & parking brake
3.0 Cu. Ft. lockable & watertight trunk
Electric start as well as kick start. Just for kicks!
40Amp Denso planetary gear driven alternator
Room for three. Take two of your favorite passengers on the ride
Pet friendly! Dogs LOVE it!
Easy to service and maintain
Proven reliability backed by 2 years, unlimited mileage warranty
Additional 5 years of optional coverage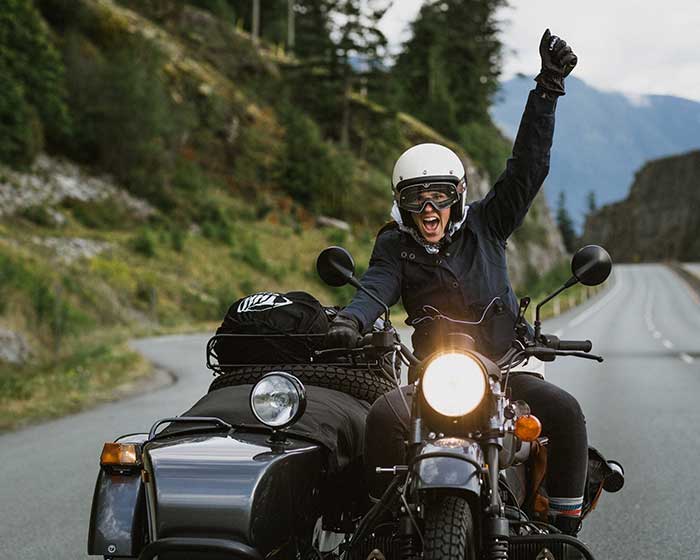 With a sidecar and trunk, you'll have enough room for all your favorite gear (or people) during your next ride. The Gear-Up provides you space for your everyday needs, whether it's camping gear or that last minute grocery run, you'll no longer need to worry about strapping it to your bike, or back. With 3.0 Cu Ft. of storage space in the trunk making trips to the store are easy. Have even more gear? Easily attach numerous bags and gear to the luggage rack. With numerous rack options available as optional.
Did you know you can order your Ural in a custom color? You can order any model in any color that you see in our current lineup. In addition, you can order your Ural with a Black Powder Coated Drivetrain, a great way to help prevent road grime and salt from affecting the otherwise exposed engine casing. Plus it looks great too. Even more protection can be ordered with factory applied undercoating of the sidecar body, front, rear and sidecar fenders. Giving an extra level of protection from the gravel and rocks on your favorite trails.
We have an extensive line of accessories available to help tailor your Ural to your specific needs. Whether it's luggage racks for your extended trip or a sidecar flood light, our qualified staff and technicians can help you order and install your upgrades. Visit our widespread list of over 600 parts and accessories at www.uralne.com
A Unique Dealership Experience in New England
If you're looking for something unique in your everyday drive, AlphaCars & Ural of New England is worth a visit. We are proud to be the premier destination for pre-owned luxury and high performance cars and new and pre-owned Ural Sidecar Motorcycles in the U.S. In fact, we sell the most Ural Motorcycles than anywhere else in the nation. Here you will find an extensive selection of high-end European and Japanese cars and motorcycles, along with rare imports from all over the globe. We carry a variety of used classic and recent-model year vehicles and motorcycles from the finest manufacturers, including BMW, Mercedes-Benz, Porsche, Volvo, Acura, Lexus, Infiniti, Subaru, MINI, Volkswagen and more. Need OEM quality automotive service or financing? We can help!
Explore all that AlphaCars & Ural of New England has to offer today. We are conveniently located in Boxborough, MA, Acton, MA and North Hampton, NH, and receive customers from all over the world. Browse our complete inventory online or stop by and see it in person. We look forward to speaking with you!
Read More »
Personalized Vehicle Locator Service
If you are unable to find the exact vehicle you are looking for, let one of our professional and knowledgeable representatives help you. We are here to provide you with the highest standards in sales and service with an equal commitment to exceptional quality. Our service saves you time and money as well. With knowing exactly what you want we are able to procure your new vehicle and save you time and money with no additional dealer fees.
Read More »
Personalized Vehicle Consignment Service
Hundreds of car and motorcycles enthusiasts have entrusted us to sell their special vehicles. We provide a quality brokerage platform that markets our inventory to a global audience. With most of our leads coming from around the globe, high quality photographs, honest and detailed descriptions, and 4k quality videos are what potential customers look for when they shop for vehicles. With so many scammers advertising cars that simply don't exist or badly misrepresenting a car's true condition, sight-unseen buyers are more comfortable working with a reputable dealership instead of buying from a private seller and hoping the car shows up as described. With our multiple locations, potential customers and yourself will feel more safe and comfortable completing a transaction.
Read More »